Fun With S'mores!
One thing that comes to mind when I think of summer is a campfire and making S'mores. I recall as a kid making S'mores around a homemade campfire with my neighbors in our backyards. Then our parents would let us set up tents and camp in our yard. It was just one of the things I looked forward to as a child when summer rolled around.
This post is a tribute to S'mores!
Check out this yummy S'mores Recipe!!!
Click here
to enjoy these sandwich bar cookies s'mores style!
Pie anyone? S'mores Pie that is!!!
Click here
to view the recipe at Woman's Day!
Need an appetizer for a summer party? Wouldn't S'mores dip do the trick?
Click here
to see how to make this sticky yum!
Cupcakes are hot right now... Make them even hotter with a S'mores Cupcake! Isn't this sooooo cute? You can see the recipe at
Saucy's Sprinkles Blog!
Grab the kids and make some S'mores Pops!
Edible Crafts
will show you how!
My friend Rebecca shares her frozen
S'mores
here. They look so good, don't they???
And just when you thought you were full of S'mores along comes this fun favor!!! I love this! See it here!
Speaking of Favors!!!
I have a
free printable
from Teaching Heart for you use to wrap a Hershey Bar at your S'mores party or Summer Fun Night!!! Great for camping trips.
Click here
to print this!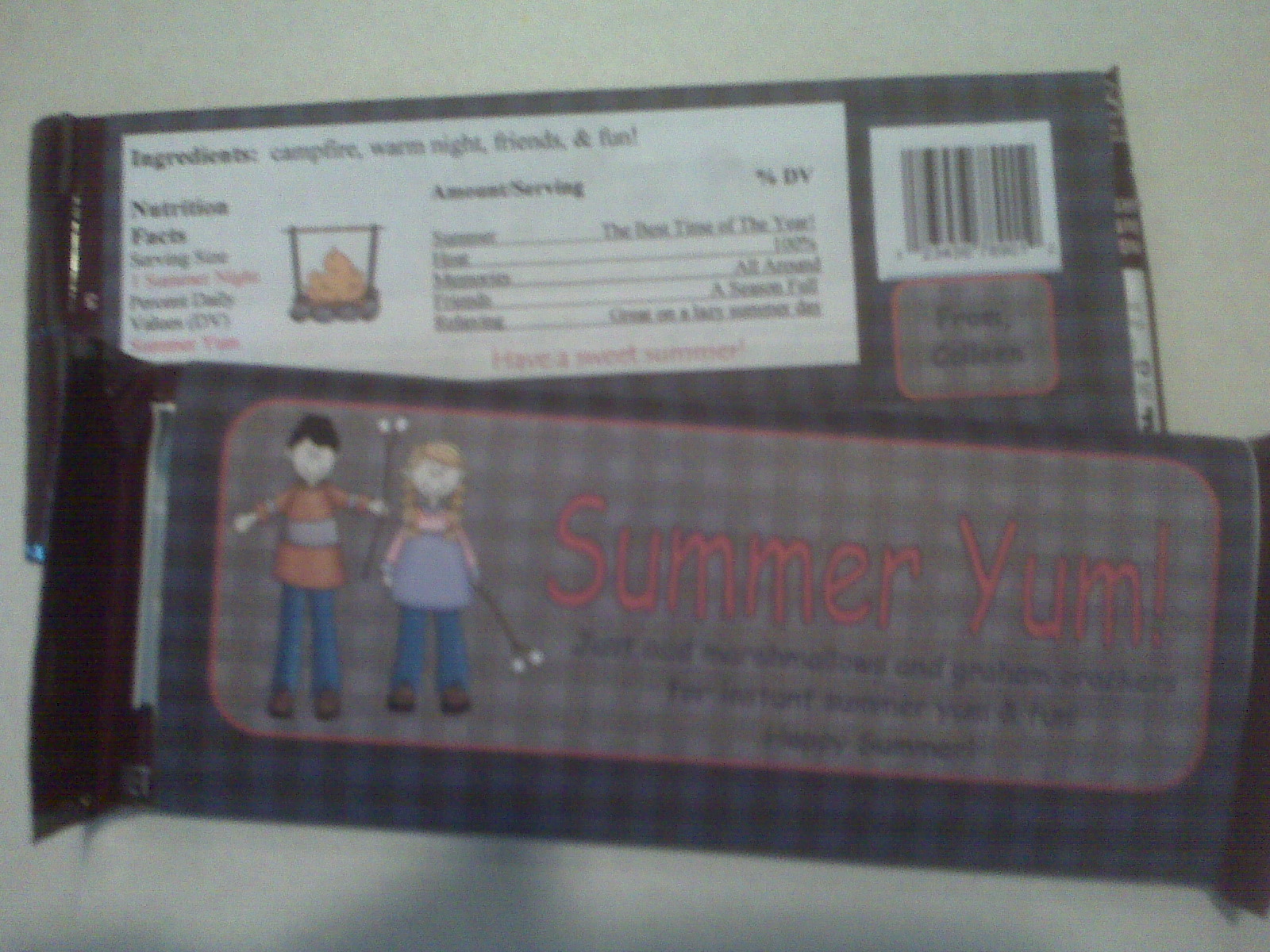 By
Gregory K.
The campfire burns. It's 9:08.
I feel so good cuz I just ate
Two graham crackers, and chocolate, too,
With marshmallow turned to warm, white goo.
A treat indeed, a dripping mess.
A touch of melty joy -- oh yes!
It's bedtime soon, but I'm not done.
I simply cannot stop at one.
Because, you see, it takes three s'mores
To make a night of happy s'nores.
Click here
for great step by step steps on how to make s'mores!
Watch this video set to our favorite S'mores song sang by the Veggie Tales!!!
Labels: candy wrapper, printables, recipe, summer, summer fun