Teaching Heart Hands Out Awards - DID YOU WIN???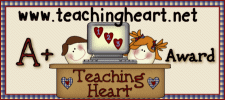 Back on Teaching Heart I just posted three blogs that get this award...
They are...
Fabulous in First Grade!
Mrs. Kilburn's Kiddos
Kinderpond!
Go Check them out! They are great!!!! They will be posted on http://www.teachingheart.net/ until I find other worthy sites!!!
Labels: teaching